Primary research and statistics
I have conducted a series of interviews and a comprehensive survey in order to find out more about people's TV watching habits. While conducting the interviews, I tried to keep the conversations as open as possible, letting people talk about their own experiences regarding television. These experiences seem to vary substantially from one person to the next. I tried to find the common denominators and see what joint pain points my interviewees were experiencing. It was also important for me to understand what were the enjoyable moments of watching television and how they have changed with the emergence of new technology.
After a few interviews I decided to compose a survey that would allow me to check my assumptions on a larger scale. Some questions about TV watching experience could only be answered in person, and so I continued talking to subjects, while trying to get simpler statistics by help of the survey.
I managed to get 50+ responses to my survey. The responders consisted mainly of peers of mine from Parsons and from my undergraduate studies fellows, friends back in Israel. This did not give me a very varied account in terms of age and socio-economic status, but did manage to test my theories as they relate to the educated 20-35 year old crowd who accounted for 98% of the survey responders and most of my interview subjects.
Stuff you should check out!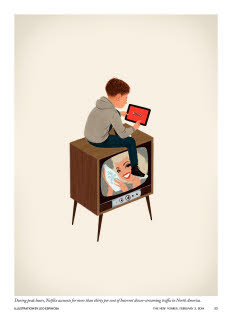 Outside The Box
Netflix and the future of television.

An article by Ken Auletta in the February 3rd issue of The New Yorker. Going over all the recent changes to the television world in a fascinating, well written piece.